Single Girder Overhead Crane Manufacturer
Modheshwari Engineering and Fabricators - Single Girder Overhead Crane Manufacturer, Supplier with support of latest technology & advanced safety, 100% client satisfaction. Capacity: Upto 250 tons with High Performance & Reliability - An ISO -Certfied Manufacturer. Powered either by hydraulics, internal combustion, or electric batteries, they usually serve commercial and industrial crane applications. They are found in paper mills, automobile manufacturing facilities, refineries, and more. Common applications include: the initial construction and subsequent maintenance of paper machines and heavy press roles, raw material handle, hot metal storage, and steel refinement.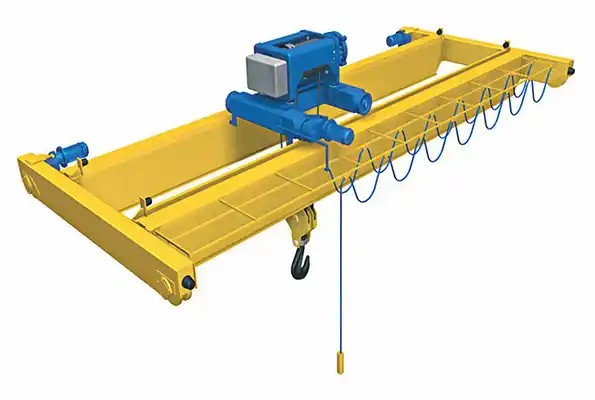 Single Girder Overhead Crane Manufacturer, Supplier, Exporter, in Ahmedabad, Gujarat, India
As suggested by its name, Modheshwari Engineering & Fabricatorss consist of a Single Girder Overhead Crane that is supported by an end truck on both ends. The offered Single Girder Overhead Cranes are accessible in both top running and under running crane designs, such as that the cranes are fitted with underhung hoists or trolleys. These cranes are a type of lightweight material handling equipment that is commonly used within production and engineering facilities. Being a prominent manufacturer and supplier of cranes in Ahmedabad, we specialize in designing cranes by keeping safety measures in mind. Our customers can avail the overhead cranes in standard configurations as well as custom-built specifications. Additionally, our cranes are available in either beam or box designs and can be customized as per the space available within the manufacturing facility and their lightweight construct also helps in minimizing the impact of wind on outdoor duty cranes. The size and load-bearing capacity can be adapted to specific lifting requirements of our customers. Based on esteem customer necessities, we can design our cranes with electric wire rope hoists, low headroom hoists, or chain hoists, as the case may be.
Single Girder Overhead Crane Manufacturers, Single Girder Overhead Crane Suppliers, Single Girder Overhead Crane Manufacturers In India, Single Girder Overhead Crane Manufacturers In Coimbatore, Single Girder Overhead Crane Manufacturer from Ghaziabad, Single Girder Overhead Crane Suppliers in India, Single Girder Overhead Crane at Best Price in India, Single Girder Overhead Crane Manufacturer from India