Double Girder Overhead Crane Manufacturer
Modheshwari Engineering and Fabricators - Double Girder Overhead Crane Manufacturer, Supplier with support of latest technology & advanced safety, 100% client satisfaction. Capacity: Upto 250 tons with High Performance & Reliability - An ISO -Certfied Manufacturer. Powered either by hydraulics, internal combustion, or electric batteries, they usually serve commercial and industrial crane applications. They are found in paper mills, automobile manufacturing facilities, refineries, and more. Common applications include: the initial construction and subsequent maintenance of paper machines and heavy press roles, raw material handle, hot metal storage, and steel refinement.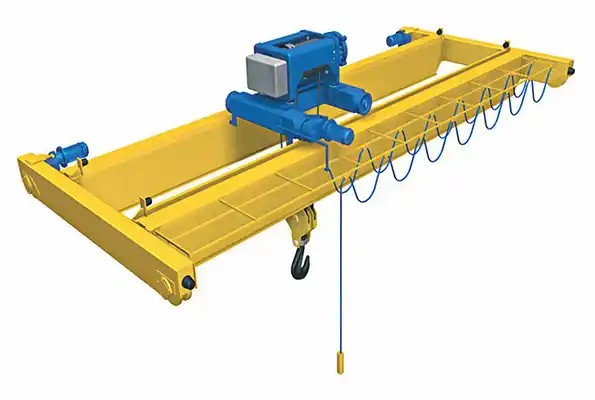 Double Girder Overhead Crane Manufacturer, Supplier, Exporter, in Ahmedabad, Gujarat, India
Are you searching for a reliable solution against your medium or heavy-duty load handling requirement, then a double girder overhead crane will most likely meet your requirements. At Modheshwari Engineering & Fabricators, we specialize in the design and manufacture wide range of double girder overhead crane with a lifting capacity exceeding 300 tones and a span of more than 40 meters. Each of the offered range of cranes is made-to-order, as such, can be designed to match individual customer's necessities. Further, we are betrothed in offering our customers with an option to manufacture their double girder cranes with unique features that are required by the customers as per their application. They are designed to operate at high levels of intensity and can take the stress out of processes and thereby guarantee increased productivity. For more details about our manufactured range of Double Girder Overhead Crane service or to receive a customized price quote against your necessities, get in touch with our sale coordinator!
Double Girder Overhead Crane Manufacturers, Double Girder Overhead Crane Suppliers, Double Girder Overhead Crane Manufacturers In India, Double Girder Overhead Crane Manufacturers In Coimbatore, Double Girder Overhead Crane Manufacturer from Ghaziabad, Double Girder Overhead Crane Suppliers in India, Double Girder Overhead Crane at Best Price in India, Double Girder Overhead Crane Manufacturer from India