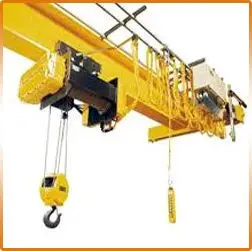 JIB Crane Manufacturer
Modheshwari Engineering is a leading manufacturer and fabricator of material handling equipments like cranes, goods lift, hoists etc…..
Modheshwari engineering was founded by Mr. Bhikha Bhai Patel in 2005, who had wide technical experience in this field. We have good experience team for designing and manufacturing activity.
We are doing continuous growth from the small crane and hoist manufacturing workshop to the big industrial house, We gained a good & vast experience in the field of material handling equipments (Like different type of crane and hoist manufacturing)and custom built equipments with quality product, prompt after sales services and reasonable price of product.
We are following some basic points for our best of quality product :
More Structural Durability
Eot Crane Supplier Modular Construction
Eot Crane Exporter Low headroom
Eot Crane Manufacturer Easy Maintenance
Eot Crane Prompt & Efficient after sales services
Eot Crane India Economical to suit with our customer needed.
Our cranes & hoists can save your time, man - hours and lift up productivity with safety of human beings
We are using repute geared couplings, gear boxes, brakes, motors, control components and VFD drives with continual improvement in fitting process to minimize the shut-down, inventory and led to zero maintenance cranes and hoists.
We are manufacturing our all products as per Indian standard and carry out strict quality control, also manufacturing special features to suit as per our customer application.