Heavy Duty Goliath Cranes
Modheshwari Engineering and Fabricators - Gantry Cranes Manufacturer, Supplier with support of latest technology & advanced safety, 100% client satisfaction. Capacity: Upto 250 tons with High Performance & Reliability - An ISO -Certfied Manufacturer. Powered either by hydraulics, internal combustion, or electric batteries, they usually serve commercial and industrial crane applications. They are found in paper mills, automobile manufacturing facilities, refineries, and more. Common applications include: the initial construction and subsequent maintenance of paper machines and heavy press roles, raw material handle, hot metal storage, and steel refinement.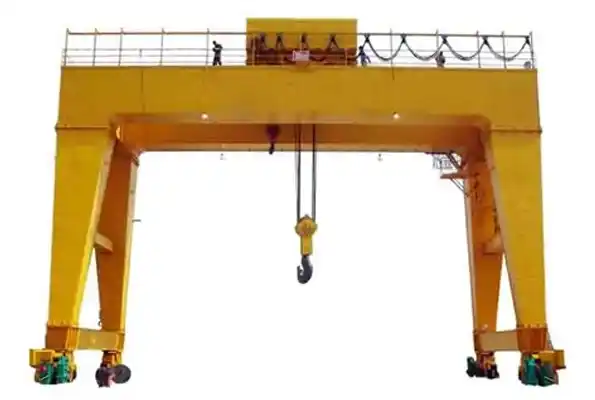 Heavy Duty Goliath Cranes Manufacturer, Supplier, Exporter in Ahmedabad, Gujarat, India
We are outstanding manufacturer, supplier and exporter of Heavy Duty Goliath Cranes in Ahmedabad, Gujarat, India. All our offered range of Heavy Duty Goliath Cranes is manufactured using high grade raw materials as per quality standards. Our developed quality team of experienced professionals makes sure the complete testing of these cranes before they are delivered to the customers. We are even engaged in offering customized Heavy Duty Goliath Crane on customer's demand. Heavy Duty Goliath Crane is appropriate for heavy load applications and is known as a cost-effective solution. The offered range of cranes assists in the outdoor installation and has been provided with several safety features. It is completely appropriate for heavy load applications and is available with different functional and safety components. Its lifting mechanism is safe and economical.
Note : Heavy Duty Goliath Crane, Heavy Load Goliath Cranes, हैवी ड्यूटी क्रैन, अत्यधिक टिकाऊ क्रेन, Semi Goliath Crane Manufacturer from Ahmedabad, heavy duty goliath crane manufacturers in india, Heavy Duty Goliath Crane Manufacturer, Supplier, Exporter, Semi Goliath Crane Manufacturer from Ahmedabad, Heavy duty electric semi gantry crane goliath crane