Goliath Crane Manufacturer
Modheshwari Engineering and Fabricators - Goliath Crane Manufacturer, Supplier with support of latest technology & advanced safety, 100% client satisfaction. Capacity: Upto 250 tons with High Performance & Reliability - An ISO -Certfied Manufacturer. Powered either by hydraulics, internal combustion, or electric batteries, they usually serve commercial and industrial crane applications. They are found in paper mills, automobile manufacturing facilities, refineries, and more. Common applications include: the initial construction and subsequent maintenance of paper machines and heavy press roles, raw material handle, hot metal storage, and steel refinement.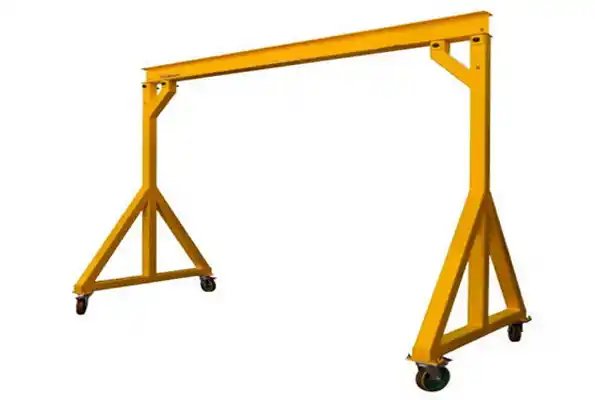 Goliath Crane Manufacturer, Supplier and Exporter in Ahmedabad, Gujarat, India
Modheshwari Engineering & Fabricators – Being pioneer in the Cranes and Elevators manufacturing industry, we are considered as a leading Goliath Crane Manufacturer, Supplier and Exporter in Ahmedabad, Gujarat, India. We are affianced in manufacturing the Goliath Crane using the high-quality raw materials and modern technologies; we are offering our customers with finest kind of Goliath Cranes that are known not just for unique features like extreme performance, but also for its costs.
Being our esteem customers you can avail this type of cranes as your best choice to work without the cost of a building or any supporting steelwork 0r ports and engineering industry. Goliath Cranes are also a perfect choice for being lifted with walkways & assembly platforms and are fit for maintaining workshop fittings. These cranes can be used to work in any open area such as container depots, construction sites, and shipping yards or at places where lifting facilities are available. Goliath cranes provide cost-effective material handling in areas where an overhead crane system is not accessible or useful. Their safety and competence make them a regular choice for production, installation and maintenance applications.
Goliath Crane Manufacturer, Goliath Crane Manufacturers, Goliath Crane manufacturers India, Goliath Gantry Crane Manufacturers, Double Girder Goliath Crane Manufacturers, Goliath Crane at Best Price in India, Goliath Cranes Manufacturers in India, Semi Goliath Crane Manufacturer from Ahmedabad